Beginner Taekwondo Classes Enrolling In December
Have you ever considered what you'd do if you were attacked? Would you cower defenselessly at the mercy of your attacker, or would you be able to turn the tables and walk away without a scratch? When you take the taekwondo classes at Peck's Taekwondo America, you'll develop bodyguard-grade self-defense skills as you learn to transform your feet and fists powerful weapons of self-defense!
All the while, you'll be getting an amazing head-to-toe workout that will trim you up and slim you down, so you'll be turning heads wherever you go!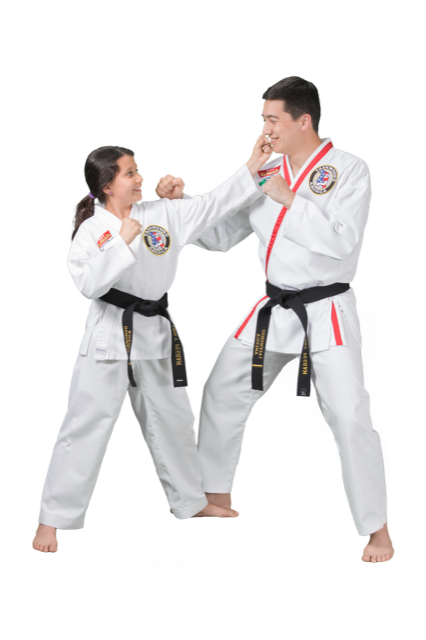 COUNTLESS BENEFITS FOR YOUR BODY AND MIND
Peck's Taekwondo America is not your typical martial arts school. That's because our specialty is taekwondo, the Korean martial art that is "the way of the hand and foot". Unlike many styles of martial arts that make use of weapons, the taekwondo classes at Peck's Taekwondo America will show you that the only weapons you need are your hands, feet, and a burning will to survive!
Beginning with your very first class, we'll show you how to disarm and disable an attacker with debilitating kicks and powerhouse punches. And while you're mastering taekwondo, you'll be rewarded with dozens of additional benefits for your body and mind. Just take a look:
You'll burn fat fast, thanks to a killer workout
You'll enjoy enhanced muscle tone
You'll experience a huge boost to your self-confidence as you master self-defense techniques
Your ability to focus and concentrate will skyrocket
Your daily stress levels will plummet
WORLD-CLASS INSTRUCTORS FOR PRICELESS RESULTS
When you enroll in the taekwondo classes at Peck's Taekwondo America, you'll get to train at the hands of true black belt masters with decades of experience teaching taekwondo. As you work side-by-side with our instructors, you'll develop surprising strength, rock-solid self-defense skills, and unbreakable determination!

GIVE YOURSELF AN UPGRADE THIS MONTH!
At Peck's Taekwondo America, we're confident that you'll be delighted with the results that our taekwondo classes will give you. From a fantastic body-shaping workout, to critical self-defense skills and everything in between, there are so many reasons to enroll today!
And with a special introductory discount on our new taekwondo classes that are enrolling this month, we're making it easier than ever! To find out more, just complete the brief contact form on this page. When you do, we'll provide you with all the details you need to take advantage of this rare opportunity to become a taekwondo master at Peck's Taekwondo America!
Our Taekwondo Classes Are Located In